Farmers are encouraged to consider upgrading their agricultural businesses to organic status, where the use of artificial fertilizers, pesticides and other chemicals is excluded and an approach that does not harm the environment is adopted.
Only 2% of Irish farmland is used for organic farming, but a government program has been set up to increase this figure to 7.5% by encouraging more farmers to adopt organic farming.
Situated in the shadow of the Mullaghmore mountain in the heart of the Burren, Seamus Howard's 55-hectare organic farm has recently transitioned from mixed farming to a dairy-only business.
He supplies milk from 100% grass-fed cows to organic producer Glenisk and is in the process of restocking the farm with organically-bred Fleckvieh cows from Austria, most of which are due to calve any day now.
Seamus grew up organic and continues his father's approach to farming.
"I grew up with it from a very young age, my father did nothing but organic. It's above all a way of life, you can be a little more proud of what you produce because you know what happens, the inputs are 100% natural, there are no pesticides, no chemicals and we are very proud of that," he says.
He adds that there is a higher price to be had for his organic products.
"Right now we're supplying grass-fed yoghurt in Germany and there's a nice premium on that, it's 50c a liter and that's going to go up. There's a huge demand there and there's no there's not enough (organic) milk on the shelves," he says.
Seamus just hosted one of a series of nationwide organic farm walks organized by Teagasc and the Department of Agriculture, to demonstrate how his organic farm works, including reseeding pastures with plants like red clover that fix nitrogen in the soil, and promote plant growth without artificial fertilizers.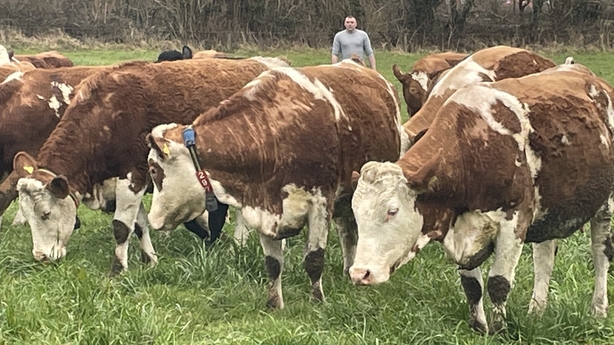 The government wants more farmers to go organic. The minister behind the effort, Senator Pippa Hackett – an organic farmer herself – says it's a win-win situation.
"Farmers are currently under great pressure; they have to reduce their use of fertilizers, their use of pesticides and at the same time we ask them to improve the quality of their water, improve the biodiversity on their farms, improve animal welfare," she added. said.
"For me, organic can deliver all of these things. As an organic farmer myself, I know the value of organic farming. I can see what it brings to my farm, in terms of environmental results, but also in terms of production and income"
The Minister has reopened the organic farming scheme to applicants who wish to convert to organic systems.
Farmers will benefit from payments of €220 per hectare of land for two years, while converting to organic farming. Reduced payments apply once established.
The organic farming program is open for applications until April 8.